DRAIN CLEANING IN SAN DIMAS
CLOGGED DRAIN REPAIR SERVICES
We all rely on water from our faucets, toilets, showers, and tubs, but we rarely think about where that water goes until something goes wrong. Your home's drainage system is an essential part of your plumbing system, responsible for carrying waste and used water out of your home and to the city sewer line or your septic tank.
When a drain is plugged, unhealthy wastewater backs up, and can damage your home's structure, lead to mold and mildew, and is extremely annoying and inconvenient. At Isaac & Sons Plumbing, we perform fast, effective drain cleaning in San Dimas to keep your system at peak performance.
Same Day Service – Contact Us Today
Call us at (626) 715-4748 or fill out our form below.
SIGNS YOU NEED DRAIN CLEANING
Your drain isn't something you typically think about on a daily basis. Until your kitchen sink starts to back up or you are ankle deep in shower water. Below we have 3 signs to look for to know when you need drain cleaning.
> Standing Water – As stated above, if you are showering and notice that your water isn't draining and is in fact becoming more like a bath tub, you may have drain problem that only a professional can fix. Call us today for expert drain cleaning services.
> Strange Noises – You drain shouldn't be making strange sounds. If a drain is clogged, the water that is flowing through it will make gurgling or bubbling noises as it tries to push itself through the small spaces.
> Slow Draining – A pretty clear indicator that your drain is clogged or needs drain cleaning is if the drain doesn't drain as quickly as it once did.
ISAAC & SONS PLUMBING RESOLVES DRAIN PROBLEMS FAST
Our skilled plumbers offer a variety of drain cleaning services, including:
> Camera Inspections for Drains: We identify drain issues in the main or drain line with our advanced camera system.
> Hydro Jetting: Hydro jetting is an advanced way to clean out drains with high-pressure water jets to remove clogs and buildup that is affecting the free flow of water.
> Installation of Drain Cleanouts: To ensure your main drain line is accessible, a drain cleanout can be installed on your property. Some homes were built without this critical access point, and our team of qualified plumbers can install it correctly, outside your home.
> Sewer Line Repair and Replacement: When the main drain line from your home to the city sewer line or septic tank is broken or clogged, we can free it from debris and roots, or install a new system that will last for years. We can install a sewer liner for an affordable way to repair an older system.
HOW TO PREVENT A CLOGGED DRAIN
The best way to prevent clogged drains is knowing the steps you can take every day to prevent it from happening. In order to prevent a clogged drain you can try the following:
> Toss food in the trash and not the drain
> Don't let dishes pile up
> Try and keep hair away from the sink
> Clean regularly
CLOGGED DRAINS IN YOUR HOME? WE CAN HELP!
Modern technology has led to superior drain systems, with more durable piping material that is safer and lasts longer. An indoor drain system replacement must be to code, which has changed over time. Older systems may need an upgrade, particularly if the drain system is prone to clogs. At Isaac & Sons Plumbing, our technicians can repair or replace a faulty drain system, professionally, quickly, and correctly.
DRAIN PIPE UPGRADES
The drain pipes in older homes are generally made of stainless steel, copper, or lead. An under-sink drain setup usually consists of stainless steel soldered to cast iron. These old-school components tend to rust or corrode over time, causing slow drainage.
DRAIN PIPE LEAKS: CLEAN OR REPLACE?
Leaks in old drain pipes are very common and problems can arise without warning. When a leak happens, Isaac & Sons Plumbing can repair your drains with a more durable, longer-lasting piping material. We will remove old, rusting, corroded metal pipes and leave your home with a new functioning drainage system to keep your system working right for the long term.
CALL US TODAY AT (626) 715-4748 FOR EMERGENCY DRAIN CLEANING AND REPAIR.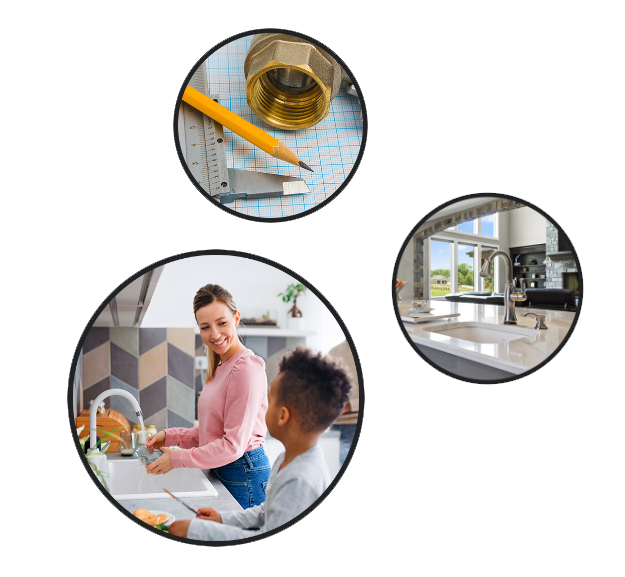 LOCALLY OWNED AND OPERATED
OVER A DECADE OF EXPERIENCE
Drain Cleaning serving San Dimas, Arcadia, Azusa, Baldwin Park, Chino, Claremont, Covina, Diamond Bar, El Monte, Glendora, Hacienda Heights, La Verne, Ontario, Pomona, Rancho Cucamonga, Upland, West Covina, and surrounding areas.