Each day as we go about our business, we frequently depend on the water from the tubs, showers, toilets, and faucets within our houses. Even so, we are unlikely to give much thought to where that water ends up flowing until the point when a problem arises. An absolutely critical part of the overall plumbing system, your home's drainage is meant to efficiently transport used water and waste from your home to the septic tank or the sewer line.
Unfortunately, when a drain becomes clogged and is no longer able to function adequately, detrimental wastewater can quickly build up in the system. Beyond causing frustration and being troublesome, this issue can end up causing damage to the structural elements of your home and may even result in the formation of mildew and mold. As such, if you notice signs that your drainage system is not working as it should, it is important to reach out to experienced plumbers for assistance. At Isaac & Sons Plumbing, we provide efficient and effective drain cleaning near Ontario, California, to help keep your system operating as designed.
Same Day Service – Contact Us Today
Call us at (626) 715-4748 or fill out our form below.
Emergency Clogged Drains Near Me
As mentioned above, the various drains in your home are not something that you generally give much thought to day to day. Rather, it is when sinks begin to back up or shower water builds up because it can't flow out that you realize that something is amiss. To help avoid a situation where the drainage problem continues to grow, it is important to keep an eye out for some particular indicators.
One such sign is the accumulation of standing water. For example, if you are taking a shower and find that the water is building up and rising rather than flowing down through the drain as it should, you might have an issue that needs to be addressed. You should also pay close attention to any odd noises coming from the drainage system. Unlike clear drains, those that are backed up often do make sounds that are abnormal. This is because water traveling through clogged drains will emit bubbling or gurgling sounds as it forces its way through.
Yet another sign that you have a problem is if it takes more time than usual for the drainage to complete. If you notice any of these issues, it is important to contact our Ontario drain cleaning plumber without delay.
Ontario Drain Plumbing Services
As a professional plumbing company, our knowledgeable and highly-skilled plumbers are able to provide you with a number of drain cleaning services near Ontario. We often do camera inspections for drains where we use our advanced camera system to pinpoint any problems in the drain line or main. Another service we provide is the installation of drain cleanouts. It can be quite beneficial to have a drain cleanout installed at your residence as it helps maintain access to the main drain line. If your home does not currently have this vital point of access set up, we can handle the necessary installation work.
Another of our cost-effective drain cleaning solutions is hydro jetting. With hydro jetting, our plumbers use highly-pressurized water jets to break up clogs and buildup that are hindering the proper flow of water through the drainage system. Many clients also use our sewer line repair and replacement services. In situations where the primary drainage line from your residence to the septic tank or city sewer line is blocked up or damaged, we are able to clear out the stubborn debris or otherwise put in place a new system meant to perform for years to come. Our Ontario drain cleaning company can even install a sewer liner as a means of fixing an aging system in an affordable manner.
Top Drain Cleaning Company near Ontario CA – Isaac & Sons Plumbing
We believe that it is important for you and other homeowners to be aware of certain actions that can help to keep drains from becoming clogged. One thing to do is clean your drain areas as frequently as possible. Another thing is to put food in the trash rather than tossing it in the drain. As hair is often found in backed up sinks or showers, do everything in your power to keep hair away from the drainage in those areas. Where the kitchen is concerned, it is also advisable to prevent dirty dishes from accumulating in the sink.
In addition to Ontario drain cleaning, we can also repair or replace problematic drainage systems accurately and with top-level workmanship. As older homes often have older piping that can corrode or rust as time goes on, we have the ability to repipe with more modern and better performing materials. No matter what drainage issues you're experiencing, our locally owned and-operated drain cleaning company near Ontario is here to help. For assistance, please contact us online or call (626) 715-4748.
CALL US TODAY AT (626) 715-4748 FOR EMERGENCY DRAIN CLEANING AND REPAIR.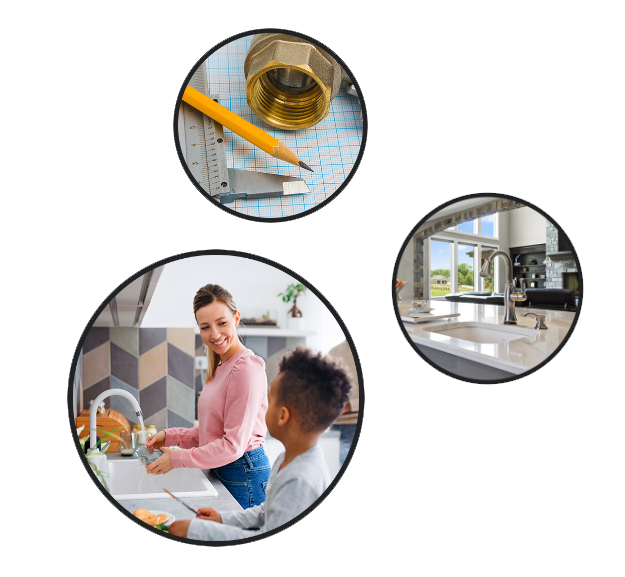 LOCALLY OWNED AND OPERATED
OVER A DECADE OF EXPERIENCE